How to Replace Trade Show Leads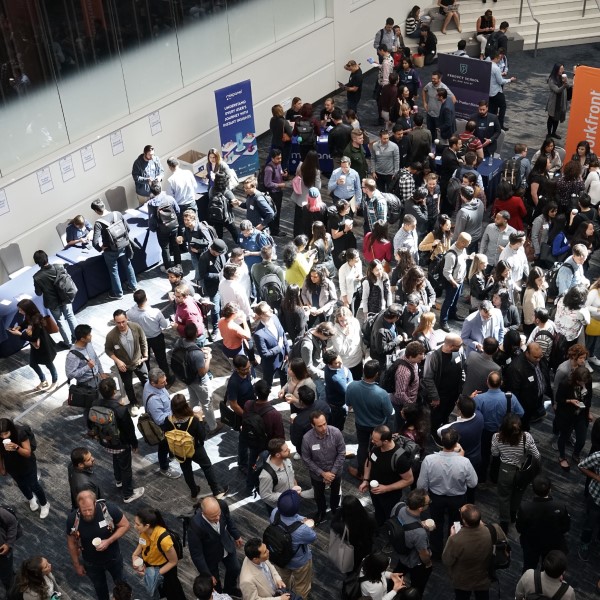 Remember when you used to generate thousands of leads each year by sponsoring major tech conferences? You had a quota and you filled it. Your sales team depended on you for those leads. Now that conferences are shut down globally 😷, how are you going to replace them?
The main types of conference leads
The key to understanding how to replace something is to first identify what it was to begin with. What were the main types of leads you used to generate at trade shows anyways?
Visibility leads
These are people who are in the general market for your product's category of service and who want to check out the options. They may or may not have heard about your product, but they wander over to check it out because it looks interesting. While they're there, they get their badge scanned by your team.
Replace visibility leads with leads from PeerSpot: Our leads are generated by decision-makers who are already in a buying cycle who reach our site when performing comparison searches – product A vs. product B. You can use these leads even if you're product C, and then hijack prospects who are researching your competition. Think of this as buying the booth right next to the 800-pound gorilla in your sector. You probably know who I'm talking about. (And if you're the 800-pound gorilla… then think of this as buying all the booths next to you to squash the upstarts – you know who I'm talking about 😉)
See how this cybersecurity unicorn built their pipeline up using PeerSpot leads.
Reinforcement leads
These are the prospects who are already aware of your product, but they want to understand it better before they purchase. Maybe they have a shortlist, and you're on it. These are the guys your team has long, in-depth conversations with at your booth, going over every detail of what your product can do. You probably already have open opportunities for most of these prospects.
Replace reinforcement leads with PeerSpot retargeting programs: We'll set up retargeting campaigns for you, so that your ads follow our site visitors around the internet after they've been on our site researching your solution. Think of the impact – your ad, your copy, your landing page, and your case studies, all targeted directly at the high-value enterprise customers researching your products on itcentralstation.com.
Watch how BMC used our retargeting and demand generation programs as a critical part of their integrated marketing plan
Social proof and demo leads
These prospects already like you and want to buy your product, but something is holding them back before they can sign on the dotted line. They need to talk to you, or even just see your other customers, and understand who else is using your product. They make a beeline from the expo door right to your booth. They have long conversations with your sales engineers, asking specific questions about their use cases, and talk to other customers who are hovering around your booth. These are the people who go to your after party or attend your off-site meetup to meet your other users, and they'll probably buy from you a week after the conference if they don't see any red flags.
Replace social proof and demos with Reviews as a Service (RaaS): You need more than leads here. You need a strong presence on the world's greatest review site that's targeted specifically at enterprise tech. You need enough reviews on your product page so that any prospect who comes in can filter those reviews and read exactly the ones that speak to them. Reviews from CISOs at healthcare companies with more than 1000 employees? Here you go. Reviews from the IT professionals who actually handled the installation? Boom, done. We're not talking about 200-word reviews from people who want a gift card. We're talking about the ability to generate hundreds of reviews in the thousand word range, each. We go in-depth, down to the nitty-gritty, so that our users understand exactly who your product is meant for, how they used it, and what that experience was like. Exactly the sort of interaction your prospects are missing when they don't meet other users at conferences. The ones you might not even know are happening.
See how Automation Anywhere used our RaaS program to create social proof and power their content creation
What about the junk leads?
Then there are the leads you get from business cards in a fishbowl for your DJI Drone raffle at the end of the show: These are terrible leads. We can't help you here, sorry 🙂
PeerSpot is ready and able to help marketers fill the gaps in their demand generation goals for 2020. Reach out and find out what we can do for you!