How to Leverage Social Media to Amplify Your B2B User Reviews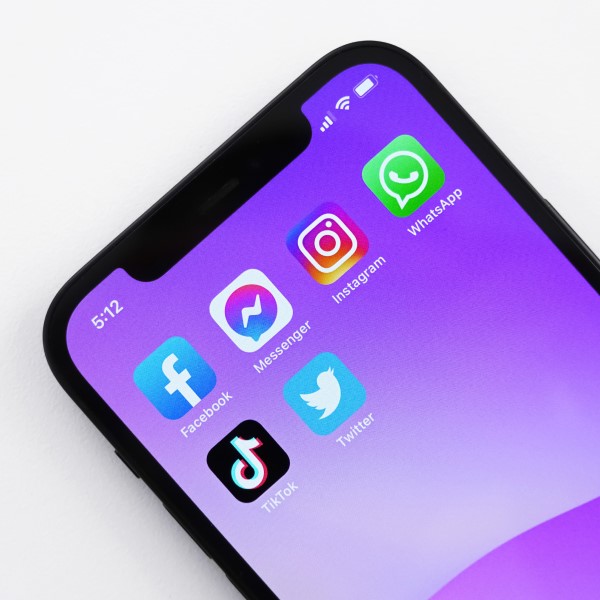 Why is it important to share user reviews on social media? What can existing and potential customers gain from reading peer reviews about your product on channels such as Twitter, Facebook, and LinkedIn?
Social Media and User Reviews: A B2B Marketing Power Couple
Forbes CMO Network contributor, Steve Olenski, hits the nail on the head with his answer for this very question: "It's a fact. Your prospects are making up their minds about what to buy by reading social media content. Make use of this behavior. Integrate real reviews and ratings into your social media feeds to increase customer engagement and get more sales."
Jeff Bullas adds another layer of brand value that social media can enable when used to distribute your user reviews:
"Sharing real-time experience of your buyers on your website, blogs, social media accounts, etc. will show how you deliver on your brand promise in the real world. Plus, your chance of drawing in more traffic to your site increases when customers write good reviews about your brand on social media platforms."
Users would rather hear authentic feedback and read reviews written by real users, who have tried and tested the product themselves.
But how can you make sure that your user reviews are seen on social media, and that you're tapping into your optimal target audience?
Step-by-Step Guide: How to Leverage Social Media to Amplify B2B Reviews
1. Share your User Reviews on Twitter
Tweet valuable, engaging quotes from your user reviews.
When you can, add an engaging image to your tweet that's relevant to the content. Users are much more likely to click when you've caught their eye.
Always add the relevant hashtags associated with the topic or industry of your product:
Hashtags that are relevant to your target audience will introduce you to online audiences that may never have met you before.
Check the rankings for every hashtag you want to use. These scores can be found on sites such as hashtagify.me or semrush.com: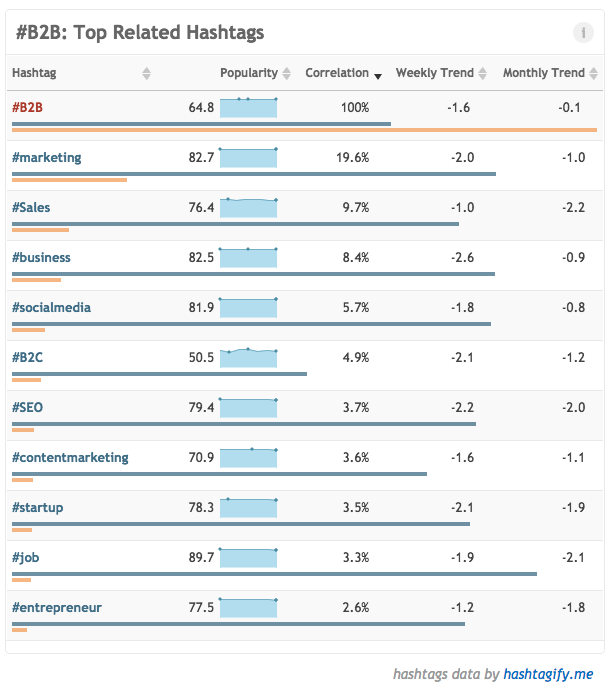 If your user review's author has a Twitter account, mention their handle in the tweet!
2. Post user reviews on Facebook
Example: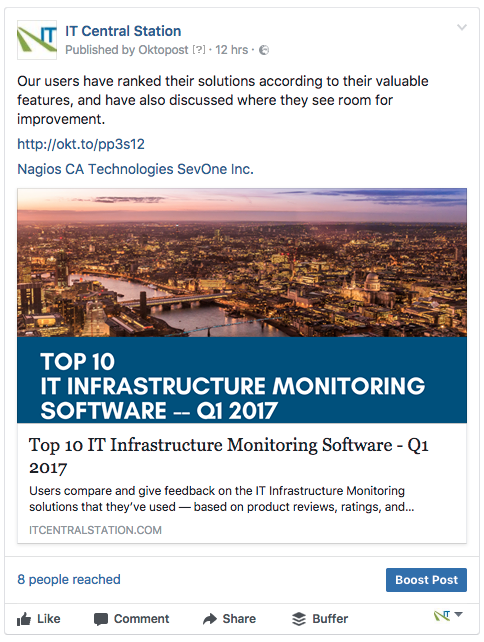 When linking to your review content on Facebook, think of a catchy phrase that will encourage users to click.
Facebook users are more inclined to click on posts that ask questions they want answers for. Some ideas:
Some ideas:
"What do users really think?" about your solution?
"Who was ranked as a top solution?
"This user chose Solution X over Solution Y. Find out why in their review."
Once you've identified the geographical location(s) of your target audience, schedule your posts according to their time zones.
If you can catch commuters on their morning train ride while they're browsing their news feed, you're much more likely to find engaged readers.
3. Distribute Review Content on LinkedIn
Use industry-related terminology in your LinkedIn posts, that show users that your content discusses topics and questions they want to read about.
Search for (and join) LinkedIn groups where your target audience is most likely to be found. If you're publishing user reviews that will interest storage professionals, for example, join active LinkedIn groups that are built for these users, such as: