How to Get your Users to Write Awesome Reviews For You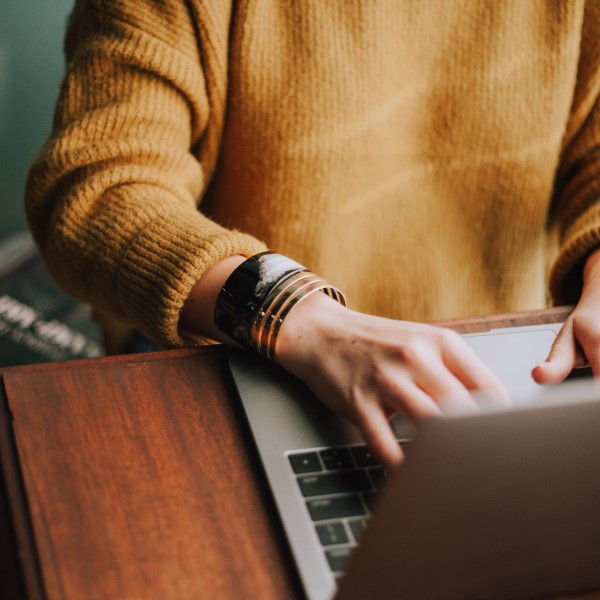 Why Do You Need B2B User Reviews?
As the leading review platform for B2B enterprise technology reviews, we understand the importance of user reviews in the B2B space. Not only our own research, but research by the industry's leading technology analysts asserts the importance of user generated content.
According to Forrester research, 74% of B2B buyers are doing more than 50% of their purchasing research online. A study by Gartner also revealed that 68% of a customer's buying time is spent away from the actual vendor.
According to the Salesforce blog, "word-of-mouth recommendations from peers influence over 90% of all B2B buying decisions."
But do buyers really trust peer content they read online? The numbers speak for themselves: 88% of consumers trust online reviews as much as they trust personal recommendations.
Peer Reviews and the Buyer's Journey
Are peer reviews only useful for top-of-the-funnel marketing, or can they play a part in other marketing strategies further down in the buyer's journey? As you can see below, according to research by RO:Innovation, customer reviews play a huge part in influencing buyers through every stage of their journey.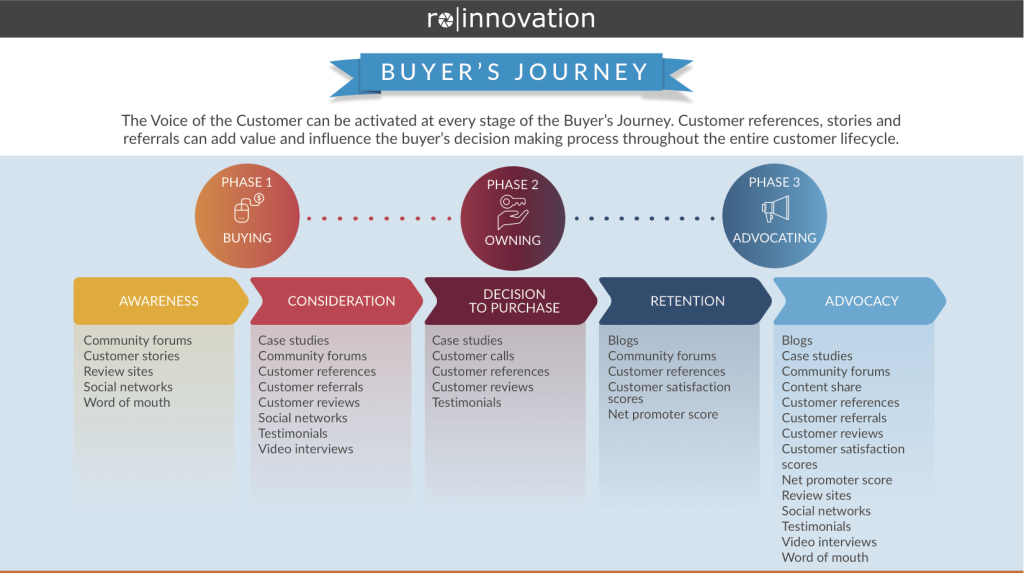 How can software vendors rise to the challenge of providing potential buyers with B2B reviews that not only answer their questions of "Is this software right for my company needs?", but also answer questions such as, "Why is this solution the best option among its competitors?"
How can you collect user reviews that help your prospects at every stage of their journey?
How To Collect Real User Reviews
Collecting real reviews for potential buyers can present some challenges. Not all users are willing to write a review, and dealing with internal compliance regulations can make the process difficult.
One of the big advantages of external review sites is that users can review your solutions without having to comply with company policy. This means that it is both easier to find users who are willing to share details of their experience, and also that users can be more honest and open than if they were providing a corporate case study.
What Potential Buyers Want to Know
Another challenge, once you've found users willing to give reviews, is knowing which questions potential buyers want answers for.
For example: Are readers most interested in your pricing model? Do they expect full disclosure of your technical support offering? Are scalability and stability the primary 'must-have's on their checklist?
Having helped many enterprise technology companies collect user reviews from their users, we've written up a quick and easy guide to help you get the best reviews from your users.
How to Get Awesome Customer Reviews: A Step-by-Step Guide
Step 1: Where to Find Users
At Your Conferences or User Events
By approaching users at your conferences or at events for reviews, you are targeting users who are already knowledgeable about your solutions and will have valuable feedback to share. You can also take down their feedback face-to-face, rather than rely on email or phone feedback, which can be more time consuming for your users.
Via Customer Advocacy Programs
By tapping into your customer advocacy programs, you can connect with users who are not only experienced with your solution but also willing to share their feedback with others.
Via your Support Team
Your users who have had positive interactions with your support team are a great source of positive feedback. They can also add room for improvement that your customer advocacy program users may not be able to give you.
Find happy users online
Monitor your brand online with tools like Google Alerts and Mention. Not only can it help you understand where users aren't happy, but it can also help you identify users who love your solution and who you can potentially reach out to for user reviews.
Step 2: What to Include in your B2B User Reviews
Ask users what they find valuable about your solution. Their answers may surprise you and can provide invaluable information for your product team.
Example: When asked "What do you find valuable in IBM Spectrum Protect?", CTO Carsten Dan Petersen writes:
"The smallest entry level sized installation can easily grow to large enterprise usages and be migrated across platforms.The product is very client-oriented which supports a lot of different platforms and products, and only have to be upgraded approx. every five years to maintain support."
Ask users which solutions they have also evaluated. This information can give you great competitive information, and can also influence the potential buyers reading your user reviews.
Example: When asked "Did you consider any other solutions besides VMware vSAN?", an Infrastructure Manager answers:
"We looked briefly at alternatives, but nothing stood out like vSAN. Nutanix was another solution, but surprisingly, it would have cost us more.."
Ask users how and where you can improve your solution. Not only is this information very valuable for your product team, it also makes your reviews more believable. Users don't trust five-star reviews that only say good things about a product.
Example: When asked "Where do you see room for improvement in Tableau?" Data Analysis Team Leader Yali Pollak answers:
"Tableau lacks machine learning algorithms that you can implement using R, SPSS Modeler, and Python.It has clustering and time-series forecasting abilities which are helpful, but adding machine learning capabilities like decision trees, CHAID analysis and K-means would make this product perfect!"
What about users who wish to remain anonymous?
Some users may be happy to give feedback, but can't because of their own corporate compliance policies. One way around this is to allow users to give reviews either with their full details or anonymously. By giving users this choice you will collect a wider range of user reviews, which can be used as a tool throughout your marketing materials.
What are your users saying about your solution?
Sign in to IT Central Station to read what real users have to say about your solution.